There are some people complaining how premades are joining DOM just to trash undergears, lets ask yourself 2 questions

1. Would it be fun queuing for 10~15 minutes and then join a game where your opponent give up fighting in 1~2 minutes time then wait for another 5 minutes for the game to end...

2. If you have everything in the game, BiS equipment with max enchantment and 10 Blood Crystal artifacts or so, what would you buying with Glory Points? (you also gain a lot less glory points if the game ends that fast)

A lot of people assume BiS PvP groups joins DOM game to trash undergeared, but if you ask yourself the two questions above, maybe you would think otherwise?

BiS PvP team joining DOM are looking for other similar BiS team for a challenge, cus there is NOTHING that interest those players with the glory points rewarded, they can get another 200k glory points, but wont make any difference to their characters.

I understand its quite disappointing for average players to meet up those BiS teams as its hardly a fight, however please do not comment it harshly saying those BiS team are there to trash the undergeareds, cus if you consider point 1 and 2 again, you would understand that would not be the case.

Personally I feel the queuing system has improved compare to the past, 3+man queuing now has about 1/3~1/2 the chance to go up against other premade/semi-premades, and a full 5man premade, now has about 1/2 the chance to meet up with other full premades, and this is what premade teams are after. If you are a 2~3k ilvl player and see some other 4k+ ilvl monster in your enemy team, the chance is your team probably also has one of those 4k ilvl players (not all the time but MOST of the time in my experience). I believe Cryptic is doing a better job and I really can't think of a better way to do it better, cus at the end if they are going to stricten the matching system again, then a lot of ppl's gonna have to wait 30~60 minutes for a game to popup, and I know a lot of people would simply quit queuing and go for GG or something that has a faster pop.

All I am saying is, if you are not happy with how some system works, and believe a system can be better in other ways, then by all means, give Constructive Suggestion with a possible Solution to improve the situation, not simply saying 'This doesn't work, fix it', 'we can be better if we fix this system' (but how?), cus ask yourself the same question again, if you are the dev and ppl are complaining how something isn't working but you cant think of anyway to make the situation better, then what do you do? nothing, period. Give constructive feedbacks with possible solutions would definitely be more helpful and appreciated.


Post edited by icyphish on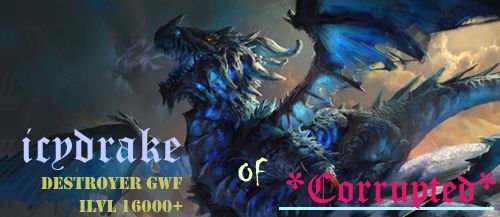 Author of GWF Speed Demon PvP Build (Mod 11) <- Click to reveal the Speedy Beast! >:)