[MAINT] SERVER MAINTENANCE 05/21/19 EXPANSION! (Complete)
Please Feel Free to Update If needs Be. Please note this is not the Official Info and as such you should keep checking for updates. This post should only be used as a reminder for standard Maint Times and info.
Server Status Provided By
@nrglg
(Reload Page To Update)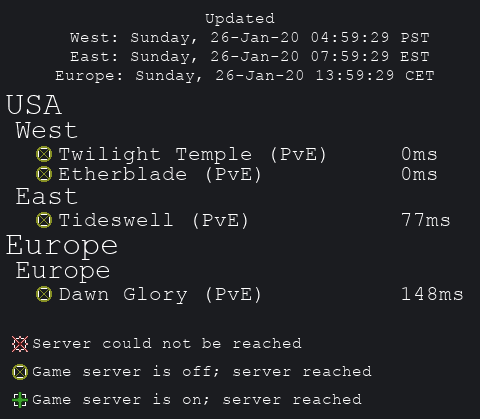 Maintenance is expected to last approximately 4 hours, so during that time you will not be able to access the live servers.
*Maintenance times are tentative and are subject to change at any time. Actual end times will vary depending on the progress of the maintenance.

Thank you for your patience and we apologize for the inconvenience.
This week's question.

DH, IBU or UP Which is your Favorite Instance and why?
If you have not done these before what are your impressions of them?
Thanks.
PLEASE NOTE UPDATE TIMES MAY VARY DEPENDING ON SERVER LOAD YOUR CONNECTION AND SOME OTHER FACTORS!​​
Post edited by heero200 on