Notice: System was upgraded and should now be faster than ever. I'm still waiting until next maintenance to see if it takes more than a few minutes to update after servers come back on.
Note: Whenever the server is coming back on, specifically from maintenance, it seems to cause a hiccup in my status system that takes it more than 5 minutes to update. If you see the last update time as being more than 4 minutes ago, then the servers are coming back on.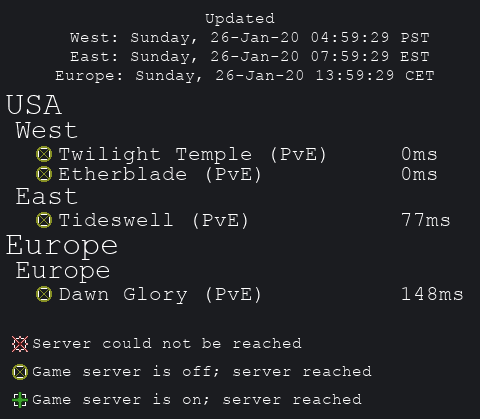 Expected response times in milliseconds from where this is pinging...
West: 20-50
Central: 40-90
East: 80-120
Europe: 140-220
This is my new status system that updates every minute and generates a new image every 2 minutes. I wasn't sure how to go about introducing it onto the forums, so I put the image link here because it will auto update. Assuming the connection between myself and the servers is working, this will display the status of the servers.
Updates (3 most recent)
Changed generation time to be dynamic from to 1 to 3 minutes depending on server fluctuation.
Changed wording of game and server status.
Changed images to better reflect server status
Note: These are not 100% representative of the actual server status in that if a node is failing, it may show a server as off. However, unless PWE put together their own thing, this is as good as anyone else running a similar system.
Notice: Official game server status can be found here, but it is confirmed to be 100% or nearly 100% inaccurate as it is not based on any proper metrics: http://pwi.perfectworld.com/status​​
GAME FORUMS (Direct Link & Arc Frame)
Forum Enhancements and Visual Improvements
(Greasemonkey/Tampermonkey and/or Stylish required)
PWI vBulletin Forum Data Dumps and Backups