Introducing Yarrow's Ridiculously Idiotic But Kind of Amazing Archery Build
LAST UPDATED JANUARY 2019: Third Edition ver. C for Mod 15 by Extraneous Typo (Xbox GT)
DISCONTINUED
: My Hybrid Archery Build is out of date due to the dramatic class changes that occurred in Mod 16. Please see my latest archery build at
http://bit.ly/YarrowsUtterlyArchery
.
The Dilemma
Archers do not really get a lot of respect. Sure archery has its fans, but other players, even many who play Combat or Trapper HRs, will frequently say that Archers are a problem because they shoot from a distance and miss out on party buffs. Archers can be so far away that their companions may not even engage in the fight, which can mean bonding stones won't proc. These issues are not quite so true any more though. In Mod 15, the developers changed the archery feats in an apparent effort to address the problem. This change eliminated a key source of range-based damage and replaced it with a requirement for Archers to stand still or quickly lose Stillness stacks of damage and crit. The result is that many archers are now unhappy because they prefer firing from range. Even when they do play close in to a party to take advantage of the updated feats, they can seem underpowered compared to other types of HRs.
My Perspective
I am Extraneous Typo (Xbox GT) and I have been playing a Hunter Ranger (named Yarrow) since 2015. I have played all paths for both paragons. My current top loadout for "serious business" is a Combat. But with the release of loadouts in 2017, I started playing around on the side with Archery and have become quite fond of this path. I do recognize there are some fundamental issues, but I also believe there is a work-around solution to this archery problem.
The Solution
I think a good work-around is a hybrid archery-combat build, mostly as a secondary DPS and support role. In general, most of the feats will still be in the archery tree, including the capstone feat, but key is not selecting
Stillness of the Forest
and instead putting points into
Skirmisher's Gambit
from the Combat tree, which will apply a reliable +50% Critical Severity to all attacks. You can also move however you like and dish out heavy damage from any range. Party buffs will help increase your damage potential, but you can also choose to play this in a ranged manner if you really just prefer the old way of playing archery. I've even included some special rotations just for range.
But the differences go even further
. You will now have to build Crit and a lot of Recovery and I'm also recommending an alternating rotation (kind of like a Trapper) of ranged and melee attacks, focusing mostly on encounters and dailies, in part to leverage the scaling physical damage from the
Longshot
feat. At-wills still come into the picture, but more for adding stacks to your
Rising Power
feat and not as the main source of damage. All of this maximizes the damage potential and even contributes to party buffs.
By focusing on encounters and dailies, you are buffing and debuffing to help your party. It's a very efficient dual-function use of powers! See the full build document for details.
If you previously read either of the earlier editions, I recommend re-reading the 3rd edition of the guide. I've added the Mod 15 boons, made some gear changes, and some additional minor updates here and there, especially to the introduction section.
View the Full Build from my Google Drive
:
https://drive.google.com/open?id=1zYW7uzzwIVGEURjWZZ8G67hNXrIaXPhz
Note: If you strongly prefer being a pure archer, then you might want to consider my
pure archery build
instead. But if you would like to become more viable for participating as an archer in end-game parties, then this hybrid build is for you.
Isn't this just a Ridiculous Idea?
Well I'm not saying this build makes Archery better or the equal to Combat or Trapper, but I am hoping it can close the gap. Here are a few short video examples of me demonstrating this build, so that you can see the possibilities. These videos were from my first edition build and I've since smoothed out the rotations in the later editions.
Solo Archer Beating Up a Band of Gorillas in Omu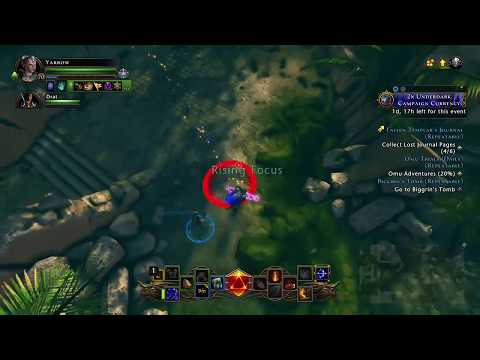 https://www.youtube.com/watch?v=3Uu_lXfPJw4
Solo Archer Taking Down a T-Rex by Soshenstar River

https://www.youtube.com/watch?v=vzinLqpcxfM
Archer Blacking Out Four Stronghold Target Dummies at Once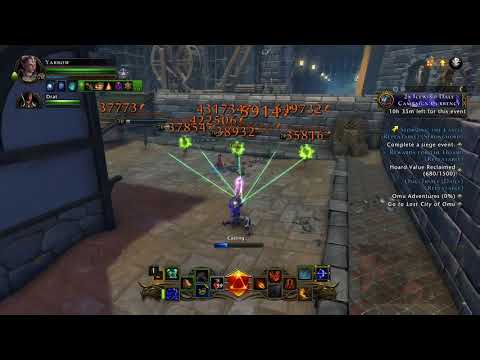 https://www.youtube.com/watch?v=bZbKNybpWMw
If you would like to try this build out for yourself, you can view or download a copy of the build from the following link. I've tried to make the read a little more fun too!
Get Copy of Yarrow's Archery-Combat Hybrid Build
(PDF document via Google Drive)
If you do try this build, please let me know what you think in the comments. I'm also happy to answer questions and your suggestions are welcome too.
Enjoy!