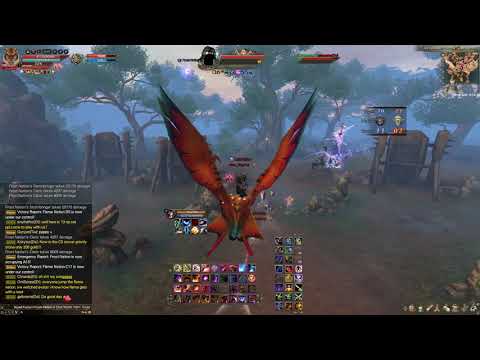 Let me explain this video.
A side note. Last months, talking left and right, I had many people complains to me because Violent Triumph + Armageddon combo is too strong, same as Purify Spell on my cata barb. Barbs requires no skill to play etc etc etc… I'm a bit bored on people complains on me for everything, such as, instead of have fun, I have to prove something to the world.
After that I want to explain my point of view about DD barb gameplay.
Violent Triumph with golden glyph, add 100% critical hit and +80% damage (lv.8 glyph) to the next hit. Connect Violent Triumph to a strong skill like Armageddon or Ancestral to deal a deadly damage.
Use Paralyze to grant more chance that the combo works.
Why Violent Triumph is legit in the actual meta?
Barbarians doesn't have any antistun and so far to have a decent lock. Also we are a melee class. Only way to do something now is to use IG/Faith and kill fast as possible.
Why is not possible to play like years ago when Barbarians was used to kill with mighty swing / occult ice, stacking Stomp, etc?
Remember that all barbs lock is on chance (60% mighty swing – 70/80% occult ice). Remember that Barbs doesn't have purify spell or the chance to hit from range, same as no leap/jump to reach the target.
The reasons are:
1) Release of G17 weapons (almost anyone now use atleast a g17r3 with purify spell or immune to damage)
This way its easy to interrupt Barb (weak) lock and lock it back due to lack of antistun effects.
2) Class with insane CC. You will be CC'ed by a DB or a BM and be unable to do anything at all, but in general all the class improved on stuns/seals/disarm/etc.
3) Reduce the "role of tank". Introducing many ways to deal high damage through basic def skill (Invoke and Solis Shield). Now, a DD barb is not tank enough to put pressure, because solid shield is a false hope now (easy purged / bypassed) and Invoke is hard to use while playing offensive.
That's why Violent Triumph is legit.
To prove what I'm saying I did XNW without golden glyph on Violent Triumph.
You can see that, despite my gears and my experience (I played deity barb from a life), I struggle to kill players with alot less gears than me, and result almost impossible to kill a geared player with all the cc around / untarget proc / etc.
Roar_King
Level 105 Barbarian with Deity Stone