Today I was testing the feats, damage, and some stuffs with my DPS Fighter, and I decided to open the Stardock Lockbox just for fun, and ...
I got the legendary drop !!!
Image:
https://i.imgur.com/8ZMnR3d.png
After a few hours, I commented on my "luck" with my guild friends, created a copy of my main character, and opened another Enchanted Key:
Another legendary drop !!!!!!!
Image:
https://i.imgur.com/ZBvTbWS.png
Still baffled about what happening to me, I decided to record a video on my Youtube channel, creating during the video, several copies of my main character in Preview, all with 1 Enchanted Key to use, and...
I GOT LEGENDARY DROP ON ALL OF THEN !!
And here is the video: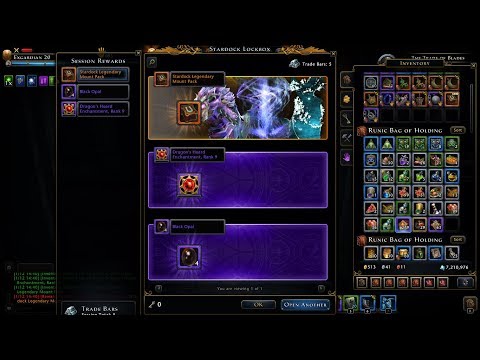 In the video, after the tests, I opened the same lockbox on
Dragon
server, and got commom rewards.
I don't know if this only happening to me or to someone else on
Preview
, since the drop rewards are pure RNG as far I know, and I don't know if this is a bug or if it is normal. But anyway, I decided to report this in a video.