MOBS CLASSIFICATION
Sources:
arcgames.com/en/forums/neverwinter#/discussion/comment/4383827?sso=eyJuYW1lIjoiIiwicGhvdG91cmwiOiIiLCJjbGllbnRfaWQiOiIxNDQzOTY4OTgxIn0%3D+7f0aa453097de73de898063d693d63dc2cddab3c+1480749529+hmacsha1
spatialfrustration.com/EncounterMatrix/index.php
You can classify each mob into a difficulty category and a role category. The first one depends on the number of health bars:
Minion: 3
Standard: 5
Elite: 9
Solo: 13
Boss: 17 (but you usually see them with 20)
In open world they have less bars. For example minions have 1, standards 3 etc. Some summoned mobs also have less health bars.
The role category divides mobs into:
Brute
Skirmisher
Artillery
Controller
DAMAGE RESISTANCE COMBINATIONS
For each level, mobs have a base Damage Resistance, which is then modified according to their difficulty and role categories. This was explained by
@two30
(big thanks to him!) in this comment, which provided the groundwork for my classification:
From my (very old) testing:
Minion brutes set the standard.
Skirmishers have 90% of Brutes' DR.
Artillery have 80% of Brutes' DR.
Controllers have 70% of Brutes' DR.
"Standards" have 9/8 of Minions' DR.
Elites have 10/8 of Minion's DR.
Solos have 11/8 of Minion's DR.
In other words, these are all the DR modifiers:

This the base DR for each level. I could easily derive it thanks to a table published by a player (I can't link the original source). It's interesting to note that the theoretical DR cap would be 72% for level 74 monsters and 84% for level 75.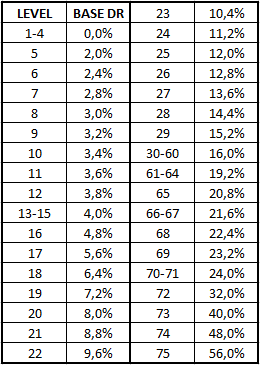 Putting all together, this is how you calculate the DR of an enemy:
(base DR) * (difficulty modifier) * (role modifier)
For example, let's take a level 70 standard skirmisher. His Damage Resistance will be:
24 * 9/8 * 0,9 = 24,3%
These are the DR combinations for level 70/71 mobs:

And for level 73 mobs:


LIST OF DUNGEON MOBS DAMAGE RESISTANCE
These numbers were taken manually during solo runs.
@thefabricant
helped me testing FBI.
Bear Rider in Kessell's Retreat has a permanent buff that likely increases his DR and can be penetrated.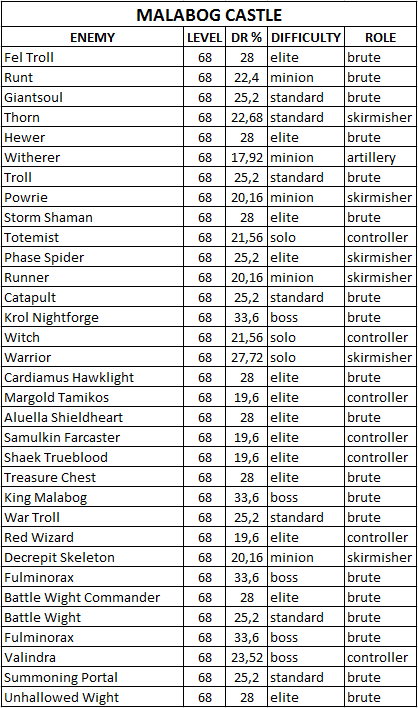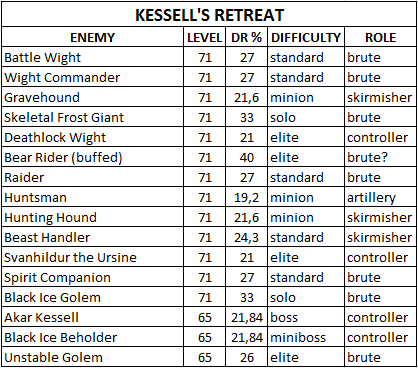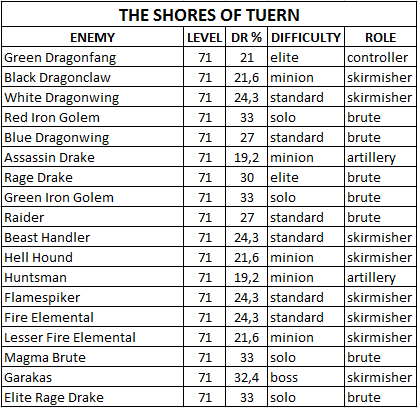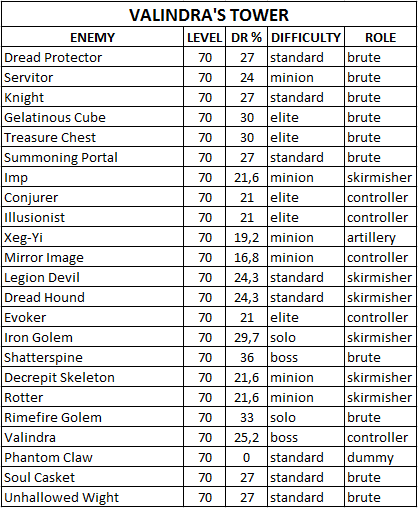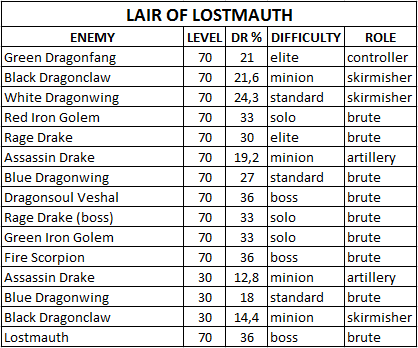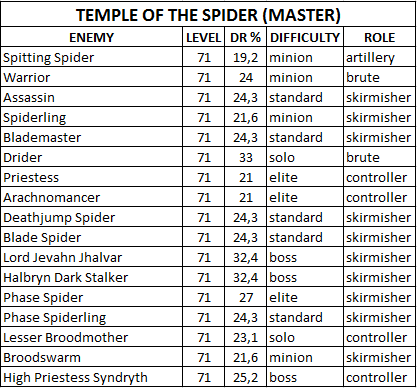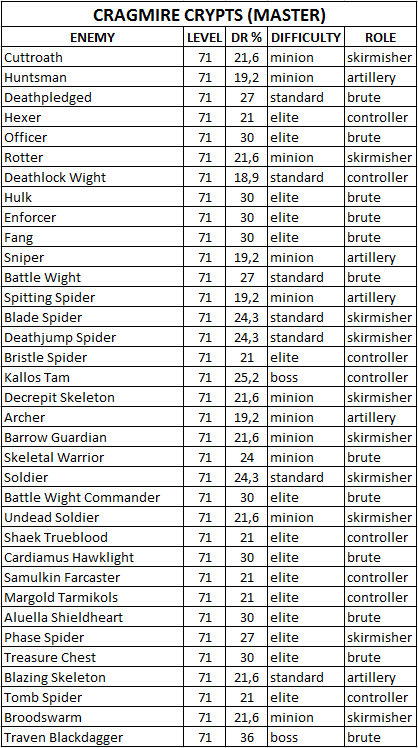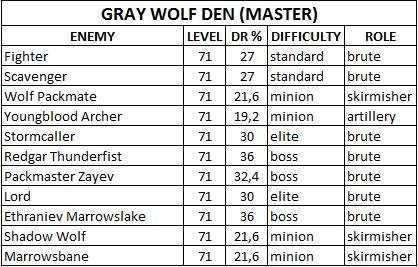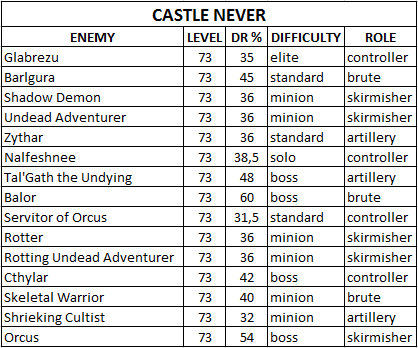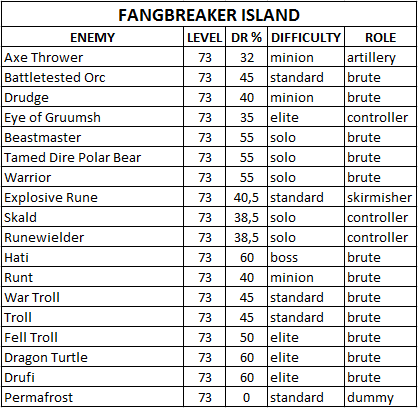 Moderator fixed image links.