Dragon Conquest exploit
As per
https://www.arcgames.com/en/forums/pwi/#/discussion/1208946/r-i-p-dragon-conquest-please-pwi-fix-it
and as per support instructions, i am opening this thread so QA team can look into the matter.
To sum it up,
Dragon Conquest event, the only and the latest competitive event in PWI it is at the moment glitched, because the respawn Dragon can actually be killed in a sub 2 minutes lapse of time by a mere 2 full squads even if the opponent is contesting it, it's generously demonstrated in this video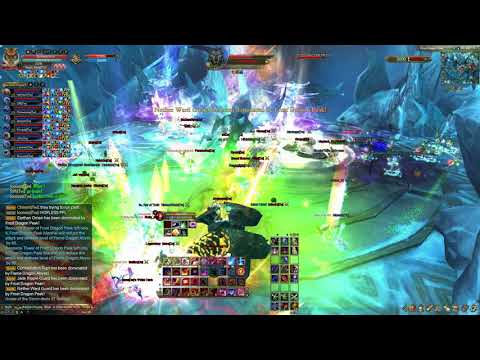 https://www.youtube.com/watch?v=LwKilBHZvkE.
This causes the whole Dragon Conquest to finish and give out a victory status without having to go through any of the objectives of the Dragon Conquest itself, it's not even required to hold a single teleport portal, this defies any challenge and any competitive meaning this event had.
While Dragon Conquest instead is supposed to be an event based on map control (side lanes objectives), pvp control (kill counter, every pvp kill increase the score by 1) and pve control (takedown guards and towers, they increase the score, take down the 1,30hrs mini boss at tai chi for extra score).
As i said, once again all of those objectives can be bypassed by just 2 squads glitching the respawn Dragon with a stack of debuffs and damage over time skills, said Dragon was never supposed to be killed in a couple of minutes but at least, in a scenario where enemies do not show, in a good 15 minutes at very least.
This issue combined with the rewards announced in here
https://www.arcgames.com/en/games/pwi/news/detail/10802924-pvp-announcements-season-start
: a Crest of King (comparable to an arigora upgraded crown of madness) for each member of the winning faction, which is worth around 7billion coins value, multiplied x 200 faction members, we are talking about giving 1,4 trillion coins in value as a reward to one single faction, basically a whole server's economy,
those 2 issues combined caused a chain of events that heavily disrupted the game and the playerbase:
-It caused players for each server to regroup in that one single faction that has the best chances at glitching the Dragon, thus the best chances at obtain the free crest of king
-it caused then to create just a single powerhouse faction for each server, disrupting the intra-server balance
-it caused players not part of the powerhouse to quit the game
-it caused factions not able to glitch the dragon, to drop the only competitive event PWI has.
Many solutions can be found, such as:
-increase respawn Dragon's hp points to a 10 times as much higher value as what they have now
-immunize Dragon to any damage as long as the other objectives aren't taken f.e. control side lane diamonds or kill the Tai Chi mini boss first before one can damage the respawn Dragon
But what it actually is needed at the moment is to absolutely stop the rewards, since the event is being exploited, and honestly:
is it fair to give out a 1,4 trillion coins prize for a 2 minutes PvE session once a week every saturday?
This is a solution that doesn't need a team of devs to intervene,
stop the rewards
and perhaps
set a rule that a faction is disqualified from the event if the dragon is glitched this way.
This is the only way current Dragon's Conquest season could go on without seeing 3\4 of the factions basically quit the event, that i repeat it was the only competitive event left on PWI, and also many and many players quit the entirety of the game.​​
Comments