Time Zone (US) [Maintenance Discussion] 11/05/17 - Complete.

Please Feel Free to Update If needs Be. Please note this is not the Official Info and as such you should keep checking for updates.
**Official Info HERE!

Start – Sun, 2:00 PDT / Sun, 5:00 EDT
Daylight Savings Time maintenance for East and West Servers will be on November 5th.
This process should take about 2 hours during which time you will be unable to access the servers.
Quick Warning Some Possible Time Zone Changes overnight may affect the servers. Please be prepared for this if it does happen. ( Looks to be only (US) servers ) This will most likely happen before 1am as the servers have to be off-line when the time change happens or they will mess up. (This is based using info from previous time changes) Please allow a fair time before the servers come back on-line.

**ALSO Please check your NW times as they should revert to normal after this chnage.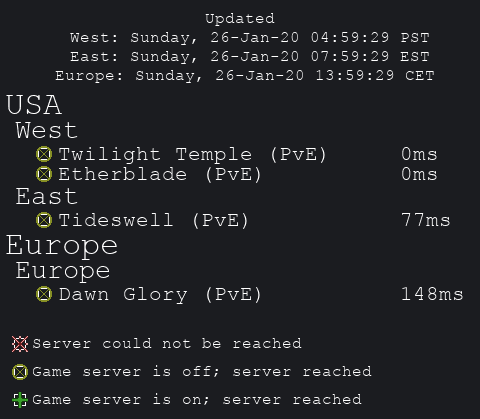 Today's Question.

What are you looking for in the next few expansions? Or what would you like to see coming in the future?
Thanks,
Heero.​​
Post edited by heerohex#3018 on
Tagged:
Comments