Starting Lycaeum without PK mode 2015

Hello venomancers.
It has now been long time knowledge that you as venomancer on a PvE server must be in pk mode to start the veno instance since some expansion...
Well, I'm happy to tell you all that this is not the case anyway, and there is a workaround method. It took me long enough to realise this.
Here is a video of me illustrating what to do before going into the instance and how to start it being blue named.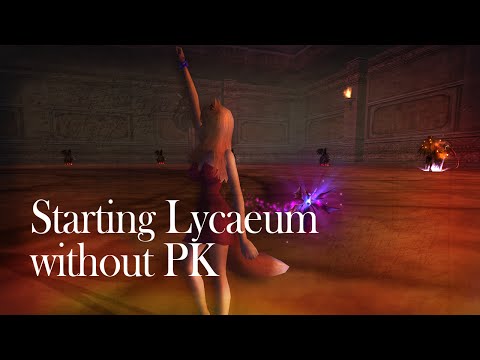 Of course just as before you still have to be pk mode if you want your max reward. This is for venomancers that are satisfied with the minimum reward.
I've long time known how to attack the guard without pk mode with help from my monkeys Heavy Load /Aoe skill, but never understood why it still didnt start the instance, untill a couple days ago I realised guards doesnt active from skills that are doing physical damage. So I went straight into digging up all possible skill combos that could make your pet use an non-physical aoe attack. Primal Howl was the only aoe attack I could find for non-legendary pets, but no mood combo the Primal Howl with Flame Fist, which makes your pet do fire damage. Neither are there any special skills of any evolution pets that are aoe damage skills, again with the exception of legendary pets.
Buying a legendary pet just for starting the instance without pk mode sounds rather expensive to me. Lucky there is a way cheaper alternative. As I was frustrated over there was no mood comboing Primal Howl and Flame Fist skills together I suddenly thought of my genie might work, since genies have insta channel and cast. Testing it out I found out with big happiness that it is working. You simply need a genie with an aoe magical attack to start the instance. It can sometimes take a few extra seconds to get it activated though.
Hope some of you found this useful. Enjoy your non-pk mode veno instance.
I'm finally back as blue named on my lesser geared venomancer.
Post edited by Satyrion - Sanctuary on
youtube.com/user/Cebloon
~ not that there is that much to see (yet?)
Comments