WTS Female Vampire Fashion

Ok so im selling 2 tops 2 bottems and 1 pair of shoes. Im also looking to trade for a specific coloured vampire top. Anyways i'll post some pictures of what im selling and what colour im looking to trade for. One top will be posted but thats the top im only willing to trade for a the specific coloured top. Anyways pm me on the forums or leave a reply here.

Don't try to reach me in game as I am not always on.

When you send me a pm tell me the time it is where you are and the time it is in PWI and i'll get back to you on when we can meet up to trade.


Note: All items are available for trade for the colour I am looking for.



Anyways heres what im selling: 800k for the tops and 500k for the shoes.

Pants have been sold



This is the top that is not up for sale but instead up for trade unless I aquire the top in the colour I am looking for.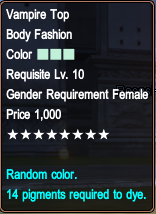 (I am looking for the same top only in a different colour)



This is the colour that I am looking to trade for.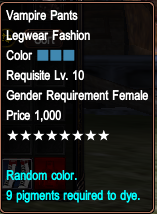 Im in Heavens Tear, I forgot to put that in the title.
Post edited by XXKimikoXx - Heavens Tear on
Thanks for the siggy Dorset
[SIGPIC][/SIGPIC]
Once upon a time I had a dirty little secret but then I took it to the dry cleanersb:laugh

-Currently residing in the real world-
Comments