Time Zone (EU) [Maintenance Discussion] 10/26-27/19 - (Complete)
Please Feel Free to Update If needs Be. Please remember to keep checking for updates.
Time Zone Changes overnight may affect the servers. Please be prepared for this if it does happen. This will most likely happen before 1am as the servers have to be off-line when the time change happens or they will mess up. (This is based using info from previous time changes) Please allow a fair time before the servers come back on-line.

All Servers MAY also be taken offline for this to make sure the Cross Server events work correctly.

WARNING - Last time bases where also reset. This included Chivalry Points/ Trials / Trials Rewards in Safe / Loyalty Funds / Faction Points. THIS WILL ONLY AFFECT EU SERVER THIS TIME!

**
XNW and XTW times for the next week, These will be an hour later than normal until next week for non EU areas.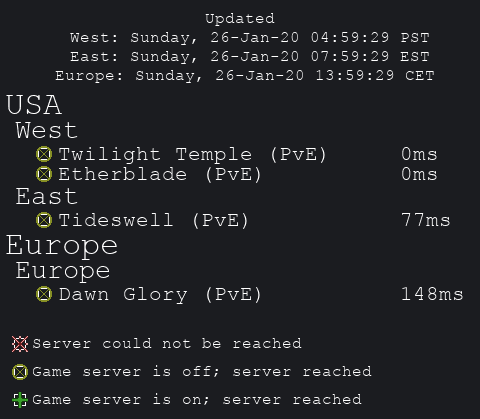 For Server Status
Click Here.
Server Status Provided By
@nrglg
.
Euro Servers - Dawnglory / Cross Server
For Time Zone Changes
Click Here.
/ For Time Zones -
Click Here.

Today's Question.
What did you think for the XServer Faction Chat and FL features added in this update?
Thanks,
Heero.​​
Post edited by heero200 on