Starfleet is a military organization. Its purpose is deception.

Space Navy (military fleet)
Wikipedia: Navy
A navy or maritime force is a fleet of waterborne military vessels (watercraft) and its associated naval aviation, both sea-based and land-based. [. . .] In modern usage "navy" used alone always denotes a military fleet. . . .
Naturally, replace "waterborne" with "spaceborne" and so on for a Space Navy.
TOS: "Tomorrow is Yesterday"
Captain James T. Kirk
CHRISTOPHER: Must have taken quite a lot to build a ship like this.
KIRK: There are only twelve like it in the fleet.
CHRISTOPHER: I see. Did the Navy
KIRK: We're a combined service, Captain. . . .
TOS: "Errand of Mercy"
KIRK: [. . .] In addition to military aid, we can send you specialists, technicians. . . .
[. . .]
KIRK: [. . .] I'm a soldier, not a diplomat. . . .
TOS: "Obession"
KIRK: Very commendable, Ensign. What was your impression of the battle?
GARROVICK: I don't understand, sir.
KIRK: I'm asking for your military appraisal of the techniques used against the creature.
Some believe that Starfleet is NASA and U.S. Navy merged into one, which is the kind of "combined service" that would make a Space Navy. Note that a real-life Navy includes non-combat duties too, but it's still a fleet of military vessels or warships.
Furthermore, compare
Starfleet Command
to
Naval Space Command
and
Naval Network Warfare Command
.
TAS: "The Counter-Clock Incident"
Robert April, a Federation (Starfleet) Commodore and Ambassador-at-Large
APRIL: I was there in the San Francisco Navy Yards when her [Enterprise's] unit components were built.
Star Trek: The Animated Series
With the release of The Animated Series DVD, the studio appears to have changed its stance, and is leaning towards the animated series being part of established Star Trek canon.
TOS: "Catspaw"
Lieutenant Vincent DeSalle
DESALLE: Maybe we can't break it, but I'll bet you credits to navy beans we can put a dent in it.
Wikipedia: Navy bean
It is commonly known as the "Navy Bean" due to its use as a staple of United States Navy rations in the 19th century.
Star Trek: Generations
, 19th century naval uniforms: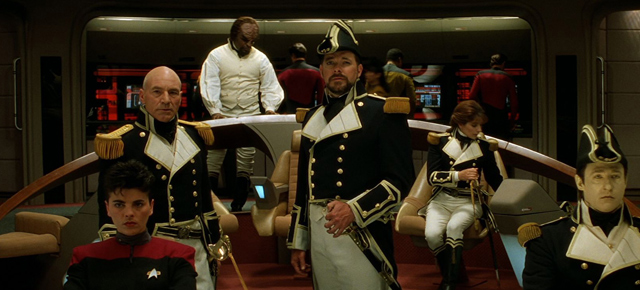 DS9: "Rapture"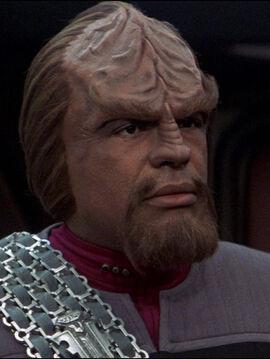 Lieutenant Commander Worf
WORF: That will not do. Rifkin commands a starship. Protocol requires he be given equal quarters.
ODO: But he's only a captain.
WORF: It is naval tradition.
Notice that the naval tradition is also ship's protocol.
DS9: "Behind the Lines"
Miles Edward O'Brien, Senior Chief Petty Officer of Starfleet
DAX: Are you two ever going to be finished?
NOG: Just a few more minutes, Commander.
O'BRIEN: That's Captain. It's an old naval tradition. Whoever's in command of a ship, regardless of rank, is referred to as Captain.
Another naval tradition that's strictly adhered to by Starfleet.
USS Enterprise (CVN-65)
was a military aircraft carrier and the flagship of Nuclear Task Force One in the United States Navy. It is one of the drawings on
the ship wall
(second from the left) in
Star Trek: The Motion Picture
and in Captain Archer's ready room (pictured below):
The
Enterprise
's history is likely already available in the ship's computer library. Yet, the military carrier is being proudly displayed on the walls.
Starfleet Academy
corresponds to a naval college or academy such as the
United States Naval Academy
.
TOS" "The Day of the Dove"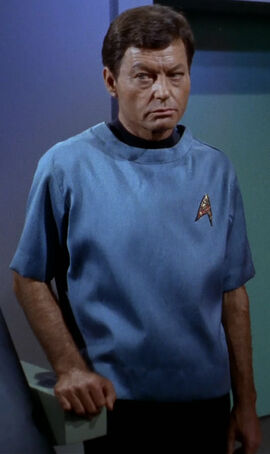 Leonard McCoy, Chief Medical Officer
MCCOY: How many more men must die before you two [Kirk and Spock] begin to act like military men instead of fools? (leaves)
How can McCoy expect Kirk and Spock to act like military men unless Starfleet is a military?
Star Trek II: The Wrath of Khan
David Marcus, a Federation scientist
CHEKOV (on viewscreen): The order comes from Admiral James T. Kirk.
DAVID: I knew it! I knew it! All along the military [Starfleet] has wanted to get their han...
[. . .]
DAVID: I've tried to tell you before. Scientists have always been pawns of the military [Starfleet].
David Marcus
was a Federation scientist who worked on Project Genesis. It's safe enough to say that he would know the difference.
Robert Fletcher's Costume Design – Forgotten Trek
(
Star Trek II: The Wrath of Khan
)
'OK, if this is going to be the navy, let's hem them look like the navy' [. . .] "It's normal in any kind of military organization that you don't have just one uniform". . . .
TNG: "Hide and Q"
Q
PICARD: Why? At our first meeting you seized my vessel. . . .
[. . .]
Q: [. . .] Seized my vessel. These are the complaints of a closed mind too accustomed to military privileges. . . .
DS9: "Inter Arma Enim Silent Leges"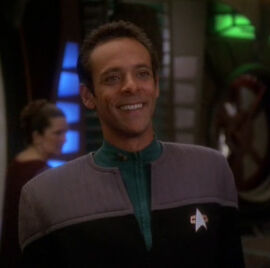 Julian Subatoi Bashir, Starfleet Chief Medical Officer
BASHIR: Sorry to disappoint you. Admiral Ross and his staff will be discussing the exciting military issues.
[. . .]
BASHIR: How long has Koval been working for Starfleet?
ROSS: He's been providing the Federation with critical military intelligence for over a year. . . .
How can Starfleet discuss its military issues and military intelligence unless it's a military itself?
TNG: "The Measure of a Man"
Captain Phillipa Louvois, Starfleet Officer Judge Advocate General
PHILLIPA: [. . .] A court martial is standard procedure when a ship is lost. I was doing my duty as an officer of the Judge Advocate General.
Wikipedia: Judge Advocate General's Corps
Judge Advocate General's Corps, also known as JAG or JAG Corps, refers to the legal branch or specialty of a military concerned with military justice and military law.
TOS: "Court Martial"
Merriam-Webster: Court-martial
[A] court for people in the military who are accused of breaking military law.

[A] court consisting of commissioned officers and in some instances enlisted personnel for the trial of members of the armed forces or others within its jurisdiction.
Wikipedia: Court-martial
A court-martial (plural courts-martial, as "martial" is postpositive) is a military court. [. . .] Most navies have a standard court-martial which convenes whenever a ship is lost.
In addition, see "
What is a court-martial?
".
Star Trek
cannot redefine the language. No one can guarantee that this definition will change in the future. A dictionary is called a
reference book
for a reason. Therefore, Starfleet is a Space Navy and a military organization
at all times
.
Memory Alpha: Reserve activation clause
Leonard McCoy: "They drafted me!"



The reserve activation clause was a Starfleet regulation which was in force during the 2270s. Described as "little-known" and "seldom-used," the clause provided for the recall of a discharged or retired Starfleet officer to active duty in response to a crisis or emergency.

In the mid-2270s, Fleet Admiral Nogura, at the request of Rear Admiral James T. Kirk, recalled Leonard McCoy to active duty in the Starfleet using the reserve activation clause. Upon reporting to the USS Enterprise, Doctor McCoy stated "In simpler language... they drafted me!" (Star Trek: The Motion Picture)
DS9: "The Way of the Warrior"
WORF: I have decided to resign from Starfleet.
O'BRIEN: Resign? What are you talking about?
WORF: I have made up my mind. It is for the best.
[. . .]
SISKO: I'm sorry, Mister Worf, but I can't accept your resignation at this time.
Apparently, Worf could not freely resign either.
Star Trek VI: The Undiscovered Country
AIDE-DE-CAMP: This briefing is classified. Ladies and Gentlemen, the C-in-C.
C in C: As you were. I'll break this information down succinctly. The Klingon Empire has roughly fifty years of life left. ...For full details, I am turning this briefing over to Federation Special Envoy.
[. . .]
MILITARY AIDE: Bill, are we talking about mothballing the Starfleet?
AIDE-DE-CAMP
aide-de-camp
(ād′dĭ-kămp′)
n. pl.
aides-de-camp
A military officer acting as secretary and confidential assistant to a superior officer of general or flag rank.
C in C
commander in chief
n. pl.
commanders in chief
Abbr.
CINC
or
C in C
The supreme commander of all the armed forces of a nation.
The officer commanding a major armed force.
Military aide
: a military assistant.
Mothballed
: a term for a
reserve fleet
.
A reserve fleet is a collection of naval vessels of all types that are fully equipped for service but are not currently needed, and thus partially or fully decommissioned. A reserve fleet is informally said to be "in mothballs" or "mothballed".
More evidence that Starfleet is a Space Navy.
Colonel West
, reinstated in the VHS version of
Star Trek VI: The Undiscovered Country
.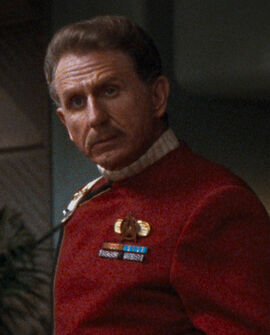 While identified in dialogue as a "colonel", West wore the uniform of a Starfleet vice admiral (equivalent to a lieutenant general).
The rank of a "colonel" strongly indicates the presence of a Space Marine Corps within Starfleet.
DS9: "Siege of AR-558"
Reese, a Starfleet soldier stationed on AR-558 in 2375
NOG: That soldier over there. You see his necklace? Those are Ketracel white tubes.
[. . .]
SISKO: Now you listen to me, Quark, because I'm only going to say this one time. I care about Nog and every soldier under my command. Understood? Every single one.
Clearly not a colloquialism when Sisko mentions it.
DS9: "Nor the Battle to the Strong"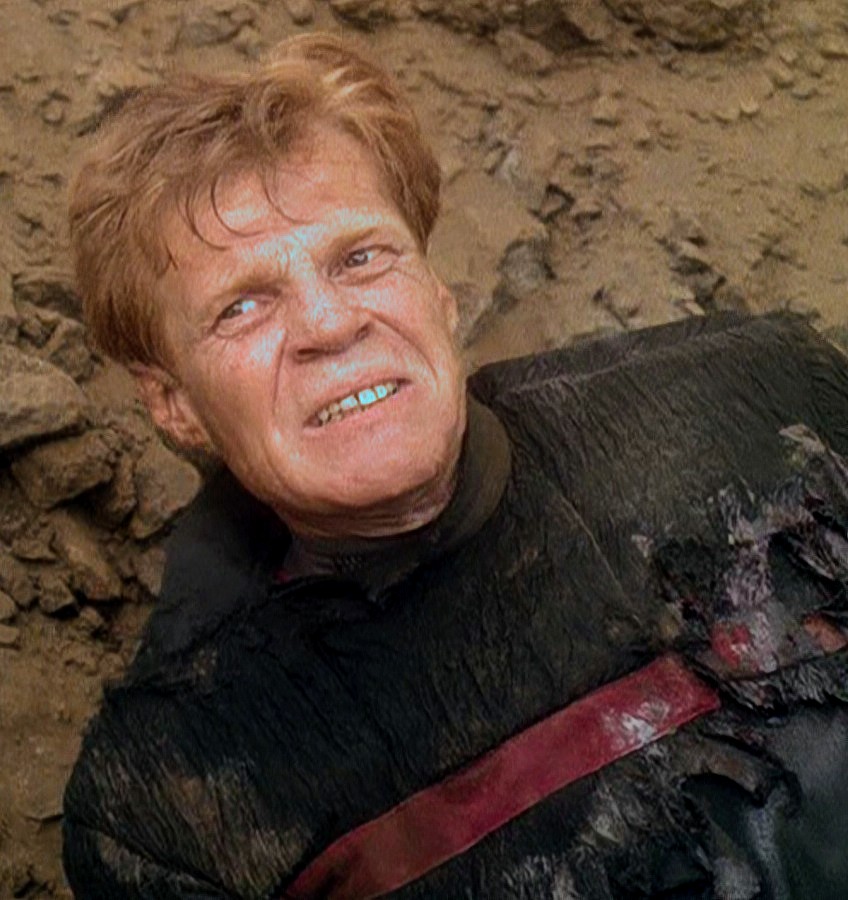 Chief Petty Officer Burke
Burke was described in the script as "a badly wounded Starfleet Lieutenant, his uniform soaked with blood - he's BURKE, a seasoned combat veteran of about forty."
Sounds like career of a soldier.
Memory Alpha: Chief Petty Officer
Chief petty officer (CPO) is an enlisted naval rank, a type of military rank used by the service organizations of different cultures.
TNG: "The Perfect Mate"
KAMALA: Perhaps the ambassador is right. Perhaps I should remain in my quarters.
PICARD: I have confidence in the self-control of my crew, Kamala, but there are guests and civilians on board.
A clear line of dialogue that Picard doesn't consider the crew of the
Enterprise
to be civilians.
DS9: "The Sound of Her Voice"
KASIDY: I'm a civilian. Isn't it awkward having me aboard a warship?
O'BRIEN: We've had civilians aboard before. It doesn't bother me.
A clear line of dialogue that O'Brien doesn't consider the crew of the
Defiant
to be civilians.
Rick Berman Talks 18 Years of Trek In Extensive Oral History
Berman notes that veterans feel Sisko is "the most believable" as a military commander of the Star Trek captains.
Memory Alpha: Starfleet
[Nicholas Meyer] recalled, "[Roddenberry] was emphatic that Starfleet was not a military organization but something akin to the Coast Guard. This struck me as manifestly absurd, for what were Kirk's adventures but a species of gunboat diplomacy wherein the Federation (read America, read the Anglo-Saxons) was always right and aliens were – in Kipling's queasy phrase – 'lesser breeds'? Yes, there was lip service to minority participation, but it was clear who was driving the boat."
If, according to
MA: Depicting Klingons
, Klingons were conceptually meant to represent "space communists" against "US democracy" (LOL!), what is Starfleet if not a representation of the US military in space?
By the way, the
official U.S. Navy website
uses the
.mil
extension, which stands for
military
.
The arguments against it, so far
TNG: "Peak Performance"
Captain Jean-Luc Picard
PICARD: Starfleet is not a military organisation. Its purpose is exploration.
[. . .]
RIKER: I prefer brains over brawn as well. I think it's a waste of effort to test our combat skills. It's a minor province in the make-up of a starship captain.
LOL! Then why does a
Galaxy
-class ship have a dedicated
battle bridge
and a
phaser range
while it's simultaneously armed as a
warship
?
In
TNG: "The Enemy"
, Picard addresses Tomalak in a Romulan Warbird with this line:
PICARD: Commander, both our ships are ready to fight. We have two extremely powerful and destructive arsenals at our command. . . .
In
TNG: "Conundrum"
, when the crew of the USS
Enterprise
loses their memories, the
Galaxy
-class
Enterprise
-D is described as a
battleship
, based on the ship's specifications:
WORF:
I have completed a survey of our tactical systems. We are equipped with ten phaser banks, two hundred and fifty photon torpedoes, and a high capacity shield grid.
MACDUFF:
We're a
battleship
.
WORF:
It appears so.
While Worf did not volunteer the description, he did essentially agree with it.
Star Trek IV: The Voyage Home
Dr. Gillian Taylor
GILLIAN: You're not one of those guys from the military, are you? Trying to teach whales to retrieve torpedoes, or some [dip****] stuff like that?
[. . .]
GILLIAN: All right. Who are you? And don't jerk me around any more. I want to know how you know that.
KIRK: We can't tell you that. ...Please, let me finish. I can tell you that we're not in the military and that we intend no harm towards the whales.
Clearly, Gillian was referring to the military of her time period, and so was Kirk.
Star Trek: Into Darkness
Scotty and Kirk arguing
SCOTT: That's what scares me. This is clearly a military operation. ls that what we are now? Because I thought we were explorers.
KIRK: Sign for the torpedoes, that's an order.
SCOTT: Right, well, you leave me no choice but to resign my duties.
KIRK: Oh, come on, Scotty.
SCOTT: You're giving me no choice, sir. I will not stand by
KIRK: You're not giving me much of a choice. Will you just make an exception and sign
SCOTT: Do you accept my resignation or not?
KIRK: I do!
KIRK: I do. You are relieved, Mister Scott.
LOL! Maybe Starfleet hasn't told Kirk it's not a military organization yet? And why was Scotty so surprised, considering that the new
Enterprise
apparently has at least 9-12 individual torpedo tubes, visibly, on each side, and perhaps 72 or more torpedo tubes in total?
As this post on
TrekBBS
states:
There are 72 of these torpedo tubes. There are 36 on each side, and they are located on either side of what would be main engineering. . . .
The area where they were being loaded is specifically referred to as the "weapons bay".
Star Trek: Beyond
SCOTT: The Federation, sir, Starfleet. We are not a military agency.
Cannot be a non-military agency with
JAG
and
court-martial
(military court) by definition. Bad fiction cannot redefine the language.
Therefore,
Star Trek
is deception and propaganda.
Voilà!
Post edited by oliviaclaire on
Comments