[MAINT] SERVER MAINTENANCE 07/16/19 (Complete)
Please Feel Free to Update If needs Be. Please note this is not the Official Info and as such you should keep checking for updates. This post should only be used as a reminder for standard Maint Times and info.
Server Status Provided By
@nrglg
(Reload Page To Update)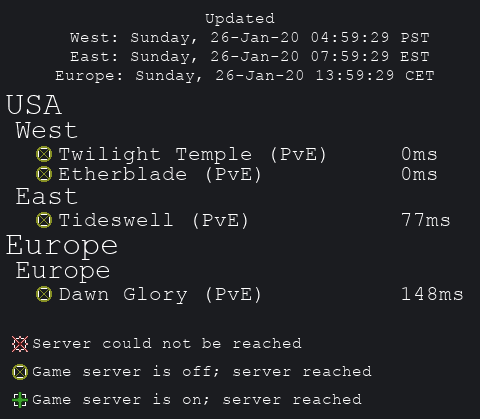 If there is maintenance tonight expect it to be the usual time unless any updates, from 11pm to 2am PDT.

Edit For Patch Notes Link Here. Or Assume for just a Server Restart / Minor Updates.
Maintenance is expected to last approximately 4 hours, so during that time you will not be able to access the live servers.
*Maintenance times are tentative and are subject to change at any time. Actual end times will vary depending on the progress of the maintenance.

Thank you for your patience and we apologize for the inconvenience.
---
Carry on the conversation -
New Classes - How are you doing?
PWI Wings of Rebirth Expansion - The Good The Bad and The Broken / Bugs.
---
This week's question. (Well not really but go with me here)
Looking for funny pwi questions and or quotes again this week. The ones last week where brilliant!

And not beyond limits please...
Thanks.
​​
Post edited by heero200 on