Revamping the companion system
Even if we got some updates on the system that seems to work great, at least in my opinion there are certain elements that became obsolete.
One of them is the gap between augment and striker companions. At this point most of us are using augments as summoned companions and few that use Xuna/Chicken as active strikers. While I don`t mind having diversity in how players build their toons I have to admit that It concerns me the fact that in endgame, one of these two companions can deal almost the same damage as the summoner (EX: 200millions damage without Xuna in 10minutes TOMM run vs 350millions damage with Xuna in the same amount of time). I can provide act logs on request but we all know how powerful those 2 companions are compared with others and this become a major problem with the system. The company waste their time and resources creating companions that no one will use. So my opinion on how the system should be revamped stays this way:
1. Make separate tabls for striker/augment companions and give them different functionalty.
The main tab will display only the augmented companions and their functionality will be the same (sharing ratings with the user) while the second one will display the striker companions ( the striker will have independent ratings from bondings/companion gears that will allow them to deliver more or less damage depending on their abilities/ranks/enchantments). The difference that comes with this revamped system is that now your striker companion can be summoned at the same time with augment, he no longer atack continuously and can be triggered like an artifact presing a button and having an internal cooldown (shorter/longer depending on his rank). For a better understanding on how the system look I will post below two pictures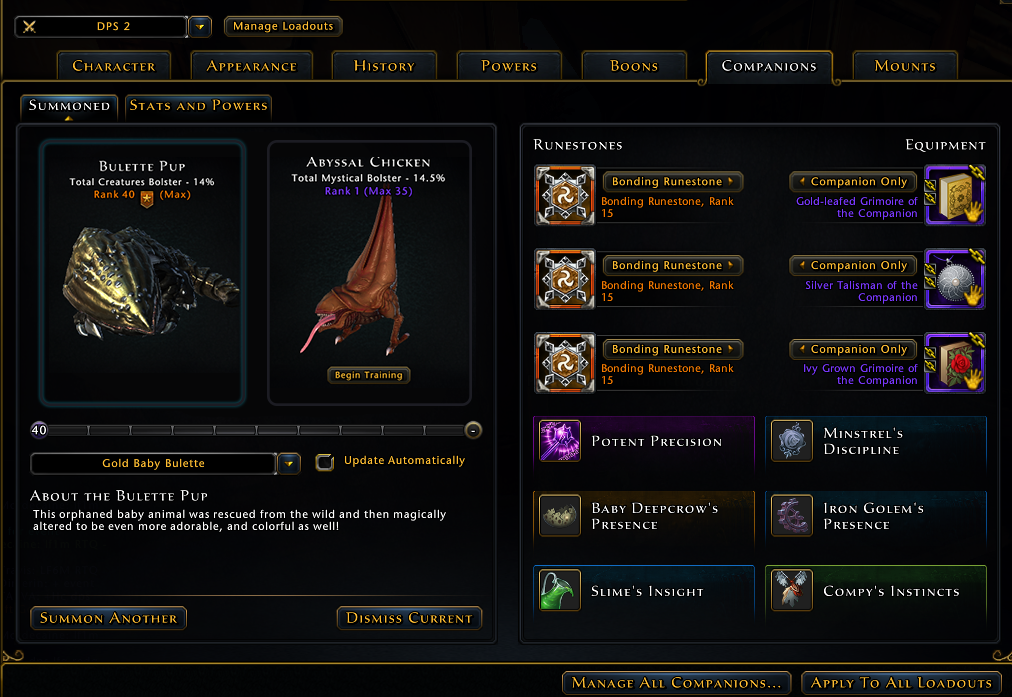 First pannel will display your augment companion along with his bonding/equipment slots.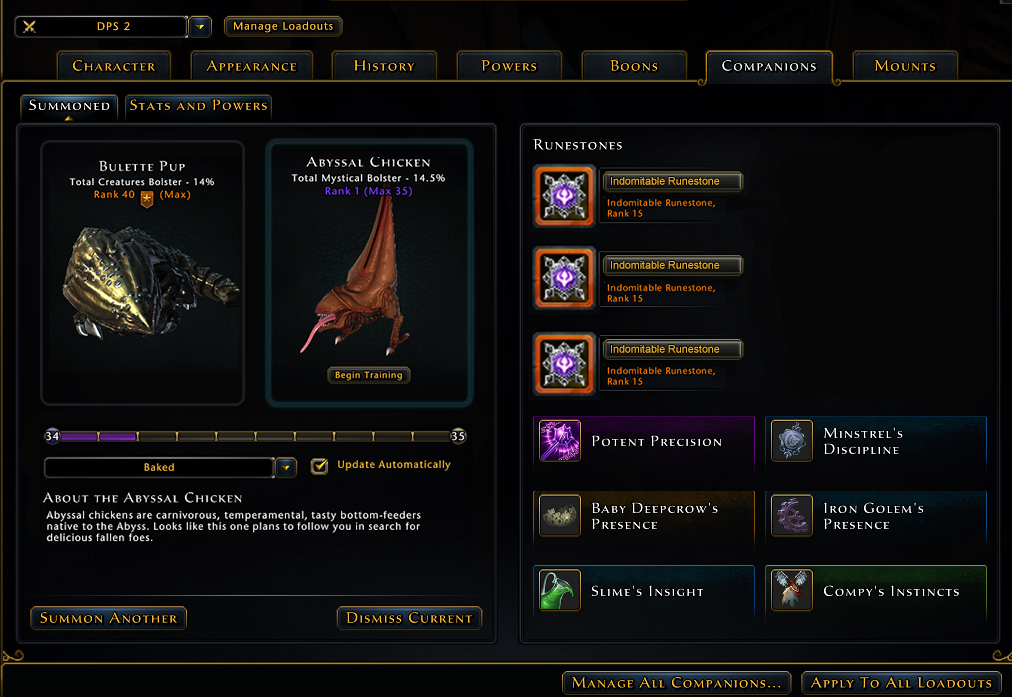 Second pannel will display your striker companion along with his enchantments slots (in this case Indomitable runestones)
Striker companion abilities will have the following effects : Damage over time (bleeding/cold/burn/poison), Stun, Heal over time
The ability can be triggered once at 120 sec for uncommon companions, 90 sec for rare companions, 60 sec for epic companions, 30 sec for legendary companions.
The ability trigger will be the same as a mount power using any keybind (in my example it is slotted on 7) :

The vision behind this change was to keep the player involved in gameplay without founding a base where his companion deals more damage than him. For me the current system where you run a Xuna build or Chicken build is a gamebreaking along with all the useless companion we have.
This system will allow players to choose with companion ability fits their playstyle better and how to manage them in order to proc different bonuses/feats and so on.
2. Augmented Companion skin system.
I have plenty cool looking companions but I never used them due to their functionality. How many of us love how a companion looks like but can`t use it due to his functionality? The separate tabs for the companions will allow us to choose how our summoned companions will look like wihout having to give up on functionality. I would like to see a separate tab where I can find all the companion skins available in game to choose from. The replacement process should cost AD (let`s say 5 to 10k AD ) similar with our appearance replacement process. This way we break the point where we see Bulette Pups/Xunas/Chickens all around and have a diversity in how we can customize our companions and show off our best looking ones. I perosnally see Vanity pets included in the companion skin system but this is just my personal preference.
I don`t request a nerf to any of these companions but a redesign of the system that will allow us to use both augments/strikers companions at the same time, the ony difference will be in how striker`s abilities will work. In the current system your companion have an internal cooldown for each ability except his main atack with in most cases is pretty low. So my proposal was to make them work like mount powers work. The advantage will be in the fact that now you can choose when to deliver his atack procing certain feats/passives or dealing much more damage during artifact calls.

Post edited by the1truehunter on
Comments