I have been a busy moderator; plotting, writing up proposals, and preparing for a variety of mini-events. Some will be forum events, and some will be in-game. I will be using this "non-forum" space as a place to announce the various mini-events, so keep an eye on the forums!
This is all possible because
wamelon
(from Jade Dynasty) has taken an extra-curricular interest in ESO. Wamelon is taking my proposals to the "powers that be", doing research for what can or cannot be done, and prodding people into action on our behalf (such as the much needed server reset to correct the time), and will be giving out the prizes for these mini-events. Please, give your most sincere appreciation when wamelon makes an appearance on our forums.
----
All in-game mini-events will be hosted by myself (ladycrane). I have created a special set of event characters that I will use for
ALL
future mini-events where my presence is required. I have one character for each server. These two characters will be the
ONLY
event characters representing my events.
Please meet the event characters: ARevent and FPevent!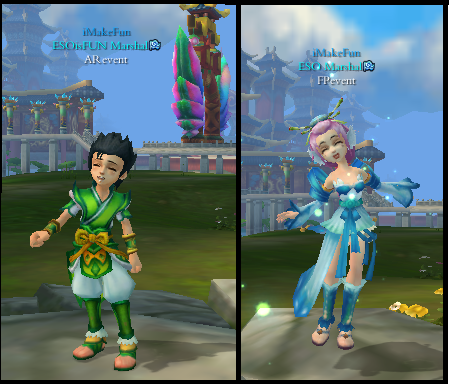 You should expect the first mini-event notice next week!