My Ship of the Dead is Missing Something...
(If this topic has come up before, apologies in advance. Moving on...)

While I'm still not entirely sold on the idea of Discovery being pre-TOS (just because TOS was in the 60s and special effects technology has advanced since then, that's no excuse to throw the TOS aesthetic out the airlock), I found that it wasn't half bad - this coming from a guy who had previously said he wouldn't watch it for all the tea in Boston Harbor. My main complaint is that the Klingons speak like they're gargling Jell-O. I mean, Klingon is a very phlegmy language, but not THAT bad...anyway. (I'm not going to hop onto the "don't look like Klingons" bandwagon, that targ's been beaten to death already.)

It's also given me an appreciation for the Sarcophagus, mainly because it's the ship that my KDF main currently flies - I got it the choice box from an Infinity pack, debated getting the Crossfield for my AoD character, then figured I spoiled my Feds enough. And I have no regrets; it turns like a whale, but I like it nonetheless. There is just one thing missing, and it's a rather glaring omission: WHERE IS MY THRONE ROOM?! (Otherwise known as the Sarcophagus' bridge.) It just feels wrong having to use another bridge on a ship fit for a king, y'know?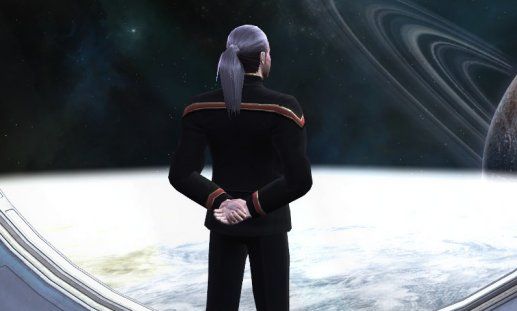 Fleet Admiral Joshua Underwood - Dahar Master D'Gehn - Fleet Admiral Ketiron
Real Join Date: October 2010