Changes to Virtual Currency (Poland)
We at Perfect World have revisited our pricing model and today we are releasing a set of changes in Poland. Our purchase flow and bonus structure have been updated to make purchasing easier and to provide larger amounts of bonus virtual currency (VC). In fact, the more virtual currency you purchase, the more the bonus increases!
The new rates for Poland are: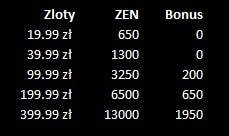 On top of these pricing changes, the purchase flow has been updated so that you first select the game, then the server and finally the amount of virtual currency that you want to charge. This change allows you to see the amount of virtual currency you will receive at the same time as you select your purchase amount.
This is another step in Perfect World's continued effort to globalize and modernize our pricing model and we are happy to be able to share it with our Polish users as well!